Back Office
POS Backend Systems quickly and easily allows making menu and pricings changes, regulating inventory levels, ability to run reports at one central location, which is from the Back office, operating your business efficiently and profitability.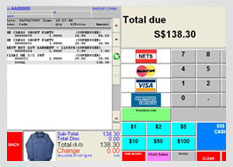 ES Retail & Merchandise
Sales Screen are fully configurable to suit various types of retail operation such as fashion boutiques, minimarts, and photo processing outlets to supermarkets.
Front End/POS
One touch key features include download stocks, open shift, merge bill, split bill, floor plan, transaction void, payment adjustment, X&Z Read, and send sales.
Wireless Ordering
Wireless Ordering allows a lots of operation advantage such as: cost saving as less waiter movement and improve order taking; Improve efficiency on food serving turn around; better customer services with less wrong ordering; improve billing procedure as reduce the billing turn around timing.
Kitchen Display Systems
The KDS is designed to display kitchen order information to a kitchen monitor with perfect viewing, managing and controlling orders at a time.
Real Time Viewer
Real Time Synchronization which synchronized Client to Epoint Server.They will track record by record when there are changes executed. If no changes still will automatically updating the record according to the time has been set.